• Blood sweat tears and more • Captain America Tribute Motorbike • Colin Rutherford
Following on from our article on Captain America's Tribute Bike, Colin's brother Brian has kindly given us an insight into the background on this talented guy. Often we stand and admire craftsmanship at its best without appreciating the hard-yards of blood sweat and tears to reach this point; not just the effort put into the project stood before you, but the years of dedication and devotion to develop their expertise.
Whether madness, passion or obsession, there is something quite special about the motorbike community, to invest so much time and effort into creating art on two wheels. From the functional 50yr old off-road BSA's racing up a hill caked in mud to the showroom restoration or customising of the classics, money does even come into it. Often the project costs more than the result, but that doesn't matter, no amount of money can buy that feeling. 
---
• Captain America Tribute Motorbike • Colin Rutherford • Harley Davidson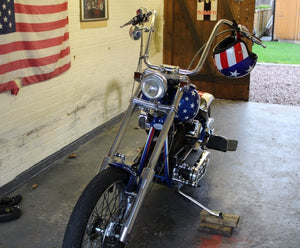 My eager anticipation to see the amazing Millennium Captain America tribute bike didn't disappoint as Steve pulled up the door on his garage. Glistening from its abundance of polished chrome, it was clear to see what a prized machine this was. The detailed stars and stripes paintwork was complemented with a matching helmet casually hanging from the handles bars and the backdrop of an American Flag. This was a passionately mad motorbike owner.