Press — Ducati Diavel 1260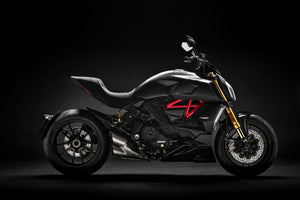 Ducati describe this bike as unconventional, unique, and unmistakeable.
Originally launched at EICMA 2010, the second-generation Diavel 1260 remains faithful to the original spirit of that incredibly special bike, drawing on its key styling elements yet bringing them decidedly up to date.
Now, the Diavel has more assertive outlines and higher performance, is more fun on mixed-road routes and even more comfortable, for rider and passenger alike. Its sport naked Testastretta DVT 1262 engine that combines breath-taking acceleration with the smooth low-rev power delivery magnifies soul that is ideal for everyday rides or longer-lasting tours.